What our clients have said about us…
Enjoy the slideshow or click the navigation arrows to scroll!
S. and A.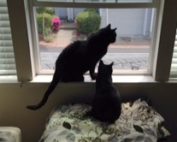 I have been using Julie's Pet Care for a couple of years now and I am so glad we found her !!! With a diabetic cat who needs insulin twice a day, and another who is shy around people, I am completely at ease when I go on vacation knowing they are both receiving such good care. My cats are my "children" and I completely trust Julie to take care of them. Thank You Julie !!!
D. and S.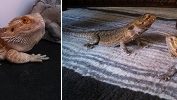 This was the first time that we were leaving our 3 bearded dragons home to go on vacation, and it was a great relief to know that Julie was taking care of our beardies while we we're away. Upon meeting Julie, I knew that she was very thorough, loved animals, and would provide the best care for our beardies as possible. Thank you, Julie's Pet Care!
V. C.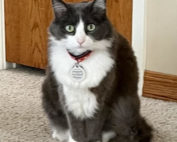 Julie has been providing invaluable medical services for my cat. My cat has kidney failure and requires regular subcutaneous fluids. Julie is able to provide this treatment on a regular schedule in my home. Without Julie's expertise, I would have to take my cat to the vet several days a week. That would be much more traumatic for my cat and very expensive. Because Julie has the expertise to provide these treatments, because she is able to come to my house, and because my cat likes Julie, we've been able to maintain her health for months. Without Julie, it would be impossible to continue this treatment. Thank you Julie!
C. H.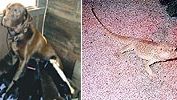 Julie's excellent care of all our animals has been invaluable over the past five years. She is trustworthy, responsible, and takes initiative when necessary. She provided expertise and love during the birth of our ten lab pups as well as nurturing our bearded dragon back to health when he contracted a rare bacteria.
I know that I can leave town without worry when Julie is at the helm and I am grateful for her professionalism and genuine concern for the well-being of my home and pets. She is a Godsend to my family.
R & B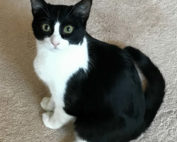 Julie and Walt are the best. They took care of our cats, Nudge and Trouble as if they were their own.
For example, during the Kincade Fire in Sonoma County we were in New Jersey, a long way from home. When the mandatory evacuation was declared in our area, Julie took Nudge and Trouble home with her until we could come home and get them. I knew that they were as safe with her as they would have been with us. She and Walt are currently caring for our newest cat, Roo.
Thank you so much, Julie!
F and L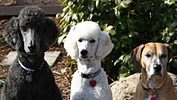 Julie and Walter are great! We added a puppy to our family of two other dogs and needed someone to come by during the day to let the puppy out of her kennel and play with the other dogs who normally had indoor/outdoor access. I felt comfortable leaving for the day and knowing Walter would take good care of the four legged "kids" while I was gone. He always left a note letting me know how the visit went.
There was an instance in which I was out of town and one of my dogs needed to be taken to the vet. No problem! Walter came by, picked up the dog, took her to the vet and all was good. Any time I have to go out of town and need someone to come by and walk the dogs, Walter would also do that, three at one time. Somehow they seemed to behave quite well with him.
Walter and Julie are incredibly wonderful people who really care about what they do. They are dependable, responsible and true animal lovers. I never once doubted their care of my four-legged beings. They care about the animals as much as I do.
K. C.

My husband and I have five grown children and we have always had the luxury of having them watch our dog, cat, and our house when we leave.
It came to pass that our son was getting married out of town and we were all to be at the destination wedding for four days. What to do??
I found Julie on Google and I sent her an email to which she promptly replied. She sent me an informational packet, answered emails from me for several months, and then came to our home to meet Murray (the beagle) and Diego (the tabby). Julie was very detailed with noting our every wish, need, and instruction for the four legged children. We asked her to do a sleepover every night for three nights.
Not only were we pleased when we returned, but we were incredibly impressed with all that Julie did (above and beyond) while she was here. We arrived home late in the day to find a note of how everything went, and she asked that I call her when we arrived home just in case we ran late with traffic and the furry ones would be hungry. Julie, I cannot thank you enough.
T. and R.
It's been 3 years now that Julie has been taking care of our parrot Sinbad when we're away. We are totally confident in her ability to care for our pet bird. She is very reliable and responsible–the best! We totally recommend her! No worries with Julie and crew!!
B and B
Julie's Pet Care gets a 5 Star rating from our family and most importantly, from our dog and cats! Julie's Pet Care is TERRIFIC!!
We got Julie's number from a friend after our previous pet care provider moved out-of-state. Our previous pet care provider had been with us for over 15 years, so making the transition to someone new was a little scary. However, after our first meeting with Julie (and her partner, the wonderful Walt), we knew that we had found the right people to fill such an important role in our lives!
We admit we are a little crazy when it comes to our pets (just like everyone else out there) and tend to worry about them when we are not home. That is why having someone like Julie to watch over them is such a blessing, because she is so trustworthy, responsible, and loving. And, since life is kinda crazy too, we can count on Julie when we have a last minute trip, because she always manages to squeeze us into her busy schedule – all this with a smile!
Renee M.
Julie Branscomb and Walt Bridwell of Julie's Pet Care have been assisting us regularly for over a year and we only become more pleased with their services as time goes on.
Last year, one of our children was diagnosed with an illness that caused our family to travel back and forth to UC San Francisco and other further destinations on a regular basis. Our beloved family dog, Rex, a 90 lb Rhodesian Ridgeback mix, who had been used to being taken for a walk at least once a day, was suddenly not getting the fresh air and exercise a dog needs to stay healthy.
We were referred to Julie's Pet Care by our trusted veterinarian, and from the moment Julie and Walt came to meet Rex and us they've been invaluable to our family. Though our usual schedule is for Julie or Walt to walk Rex twice a week, but occasionally circumstances sometimes require me to call on short notice. Whenever this happens, both Julie and Walt do their best to come to our aid, and we've never had a situation where they didn't do their absolute best to accommodate us. Though we've not needed this service, I would certainly trust either of them to stay in our home should the need arise.
I've referred Julie's Pet Care to many of our friends and will continue to do so in the future. Julie and Walt provide an important service to our family by assisting with the health and well-being of our much loved dog, while always being both professional and extremely pleasant to work with.